The PTO cannot exist without the involvement of Parents and Teachers.  There are many ways to be active within the PTO, from attending the monthly PTO meetings, lending a hand at one of our events, helping to organize materials, as well as joining or chairing one of the various committees.  It doesn't have to be a huge commitment if you have limited time available.  All help is welcome and appreciated!
Be sure to fill out our Volunteer Form to find the best ways you are able to volunteer.   Please click the link to print a form.  Volunteer Pledge Form
For more information or questions, please contact Cotton Creek PTO  d118ccspto@gmail.com
If this is your first time volunteering, please allow 5-10 extra minutes in the office when signing in to allow for Driver's License/ID scanning and visitor pass printing. Thanks for your help!
☟Current Opportunities to Volunteer☟
✹Fall Book Fair✹
We need volunteers…we need YOU!
Volunteering at the Book Fair is the perfect way to stay connected to your child at school and help students find the books they can't wait to read.  Sign up now and get ready for a fun and rewarding volunteer experience.
Questions: cottoncreekbookfair@gmail.com
PLEASE SIGNUP AT THIS LINK:
http://www.signupgenius.com/go/4090e4cadae29a5ff2-fall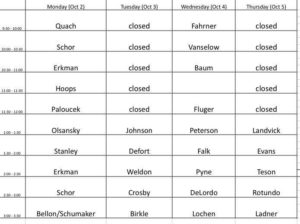 ✹Night Out With Dad✹
Date: 09/29/2017 (Fri.)     Time: 5:30pm – 8:45pm    Location: Cotton Creek School
http://www.signupgenius.com/go/10c044fa8a628a2f94-night
---
☟Year Long Opportunities to Volunteer☟
✹Pencil Box✹
The Cotton Creek Pencil Box needs your help!  With the many eager students coming down to buy school supplies, we need a few volunteers to oversee the shopping at our once a month store.  We have 3-4 tables, each fully stocked with the supplies so that each table can have several students shopping at one time.  We would like to have 3-4 volunteers supervising/assisting at each table.  Please sign up for any shifts you are available for, and feel free to share this with friends.
Any questions, please contact Michelle Czyz~ tchrczyz@gmail.com.
PLEASE SIGNUP AT THIS LINK:
http://www.signupgenius.com/go/10c044fa8a628a2f94-pencil1
✹Popcorn Sales✹
Popcorn Sales (setup, popping, distribution & cleaning) usually run from 8:45-11am on popcorn days (mostly the 1st Thursday of the month unless otherwise stated). Popcorn Sales helpers needed to pop popcorn and fill bags, receive money with class lists, deliver popcorn to appropriate areas (classroom, lunchroom). Must be able to smile and have fun 🙂  There will always be a Popper there with experience so 1st time poppers are always welcome. Carrie Hodgdon (chodg3@gmail.com) is the chairperson of this committee. Feel free to contact her with questions.
Location: Cotton Creek Teachers' Lounge
PLEASE SIGNUP AT THIS LINK:
http://www.signupgenius.com/go/10c044fa8a628a2f94-popcorn3
---